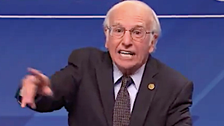 Larry David's dead-on Sen. Bernie Sanders stole the show as "Saturday Night Live" revisited the most recent Democratic debate on its cold open with a motley mix of cameos and cast members.
"I can't believe all this mess happened in Iowa because of an app. Hey! I have an idea for an app; it's called no apps," grumbled David, a startling likeness of Sanders. "You show up to your polling place, take a number like you do at the butcher … You walk up to the counter and say to the guy, 'Give me a pound of whatever's about to go bad.'"
Jason Sudeikis' former Vice President Joe Biden, meanwhile, was licking his wounds. "I'll be honest: Losing Iowa was a real kick in the nuts," he conceded. But he's planning to "creep up from behind." When told he had 60 seconds to finish his message, a panicked Sudeikis shot back: "What? The doctor said I had six to eight months!" 
Colin Jost, playing former South Bend Mayor Pete Buttigieg like a dutiful schoolboy, admitted he's got a problem wooing the minority vote. He's known as "Mayo Pete," he noted, but cautioned: "I assure you, I'm not that spicy." Jost's Buttigieg was hopeful he could get "White Obama" trending, and "please, not ironically," he added. (It did trend.) 
Not to be overlooked was Rachel Dratch's Sen. Amy Klobuchar. "I'm here, I'm square. Get used to it," she crowed. She compared herself and Kate McKinnon's Sen. Elizabeth Warren to the Super Bowl super duo J. Lo (Warren) and Shakira (Klobuchar).
Check out the video of the cold open up top.
Calling all HuffPost superfans!
Sign up for membership to become a founding member and help shape HuffPost's next chapter